Take back your vibrant life
Our progressive dialysis can help you prevent complications and to improve your overall health condition.
Book Now Available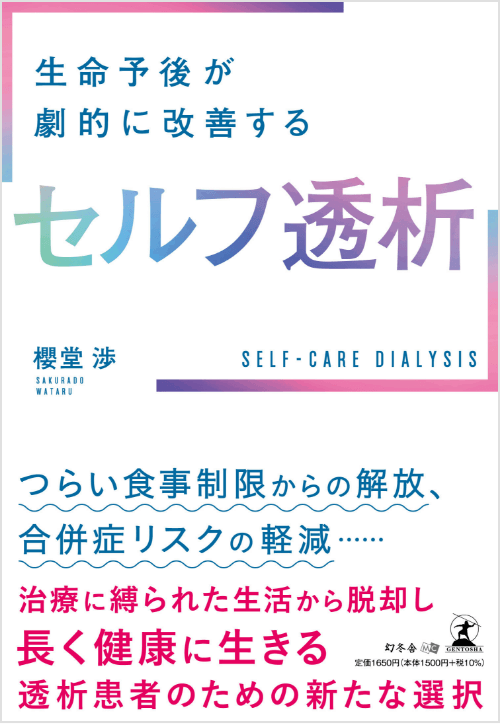 Review Rating 4.3
Self-Dialysis Dramatically Improves Life Prognosis
By controlling the timing and duration of your own dialysis, regain freedom of mind and body, not to mention good health. This is a book that expands the options for dialysis patients to live an active life in their own way.
View on Amazon.co.jp
Do you have any of these problems with dialysis?
We have to go along with the hospital's convenience.

They don't show me how to do dialysis and what my options are.

Dietary restrictions are hard to follow.

Want to lower the risk of complications, but don't know how.

They do not fully understand my lifestyle.

For all my hard work, my health is not improving.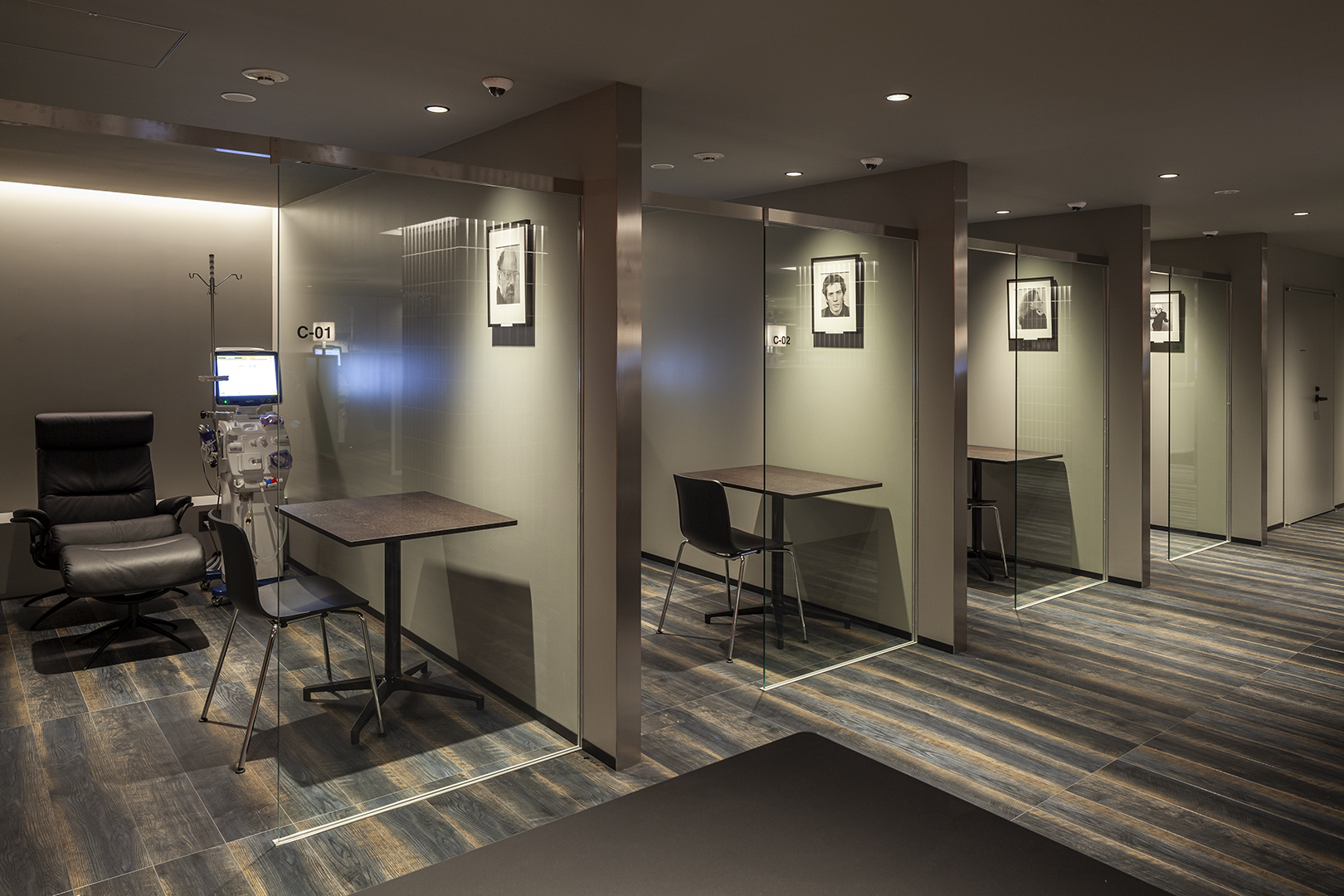 SDC
Entrance

Nurse station

Private room

Training zone

Self-dialysis zone

Self-dialysis zone
SDC (Self-care Dialysis Center) is Japan's first "Self-dialysis" facility.

The world's most advanced self-dialysis style was born in European countries and the United States, and is spreading due to its contribution to health outcomes and high degree of freedom for patients.

The SDC, which was designed with reference to dialysis facilities in developed countries, including the French self-dialysis facility "Home Dialysis Center," has high-end reclining chairs and partitions that do not bother other patients' eyes. , Semi-private rooms where you can concentrate on telework and web conferences, indirect lighting that is easy on the eyes with sufficient brightness, and high-speed Wi-Fi that can be used in all seats, so we have everything you need to relax. I was.

Reading, listening to music, watching movies, or concentrating on your work, how you spend your time is up to you. Of course, you can also have a good night's rest.

In recent years, online work has become popular, so there are many patients who are working online while on dialysis at SDC. By doing dialysis while working, you can use your time effectively.

By performing sufficient dialysis in a comfortable environment at a time convenient for you, you can expect to improve your health outcomes, freedom of living, and job performance. Self-dialysis and SDC make it possible.
Advantages of Self-Dialysis
MERIT1Freedom from Time Constraints

Having to restrict your work or change your lifestyle because of dialysis can be very stressful.
This system can free you from time constraints to improve your lifestyle.

MERIT2Easing dietary restrictions

Eating is both a pleasure for us and has the important purpose of getting proper nutrition. When nutritional deficiencies occur, it is impossible to take in enough nutrients and thus maintain good health. The concept of self-dialysis is to relax dietary restrictions as much as possible.

MERIT3Improving risk of complications

The benefits of improving complications are immense. For example, during dialysis, it can improve blood pressure fluctuations, foot suspension during dialysis, itching, and reduce dietary restrictions, which can eliminate day-to-day problems. In the long term, it can improve calcification and long-term complication risks, and improve your physical condition and reduce future risks by improving cells and organs, which have deteriorated over time due to the accumulation of blood waste, to a more biological condition.

MERIT4Improving life expectancy

The practice of HDP (Hemo Dialysis Product) management has been shown to improve life expectancy. Freedom reduces mental stress and the relaxation of dietary restrictions allows adequate nutritional intake. And the reciprocal factors of adequate dialysis with HDP have a synergistic impact on health.
Consultation

Various concerns about dialysis, various methods of dialysis, daily routines including dietary restrictions, control of your condition, the relationship between your work and social life and your life values will be comprehensively reviewed by an expert nurse with in-depth experience and knowledge of dialysis to help you solve your problems.

Receive a Consultation

Class

If you have been told that you will soon be on dialysis, or are about to be introduced to dialysis, or have questions about your current dialysis regime, learn about the basics of dialysis, choosing a dialysis treatment, what to look for when choosing a dialysis facility, and how to maintain your condition and control complications. Free online web classes will be offered. You will find useful information. We will give you the essential information you need for better dialysis for a healthy future.

Find Your Class
Nocturnal dialysis
In general dialysis facilities, dialysis usually takes place during the day.
Dialysis patients who have a job are restricted in their employment because of the time taken up by dialysis during the day. Many dialysis patients are forced to restrict their own lives by having to leave early to meet clinic opening hours or take time off work. Nocturnal dialysis solves this problem.
For example:
I want to work full time, but can't because of dialysis.
I have to come in after lunchtime or take time off work because of daytime dialysis.
I feel uncomfortable about inconveniencing other employees by leaving work early on dialysis days.
I often get sick during daytime dialysis and lose a whole day.
I can't be bothered to go to dialysis in the morning rush.
etc. ……
By performing dialysis at night,
It can be done without disrupting your full-time job.
If you are unwell, you have time to recover and minimise the time you lose.
The ability to dialyse in plenty of time makes it easier to prevent illness.
You can go to hospital when buses and trains are less crowded.
etc. …… Dialysis can be tailored to your lifestyle.
Scheduling is also possible, e.g. dialysis in the evening on Tuesdays and Thursdays and dialysis in the morning on Saturdays.
Time Freedom

Your lifestyle is our priority.
You can control your dialysis at the time and frequency you desire.

Dietary Management

You will be free from the worry of managing your diet.
This allows you to have a good time with family and friends.

Motivation

Through restoring an energetic body and mind.
Motivation is increased.

Health

By HDP management, laboratory data can be improved and health can be maintained at an optimal level.

Skin Conditions

Skin tone becomes more healthy.
Restore your skin's condition.

Safety

Provide advice on how to improve your health status.
You can continue your dialysis treatment after you are satisfied with the results.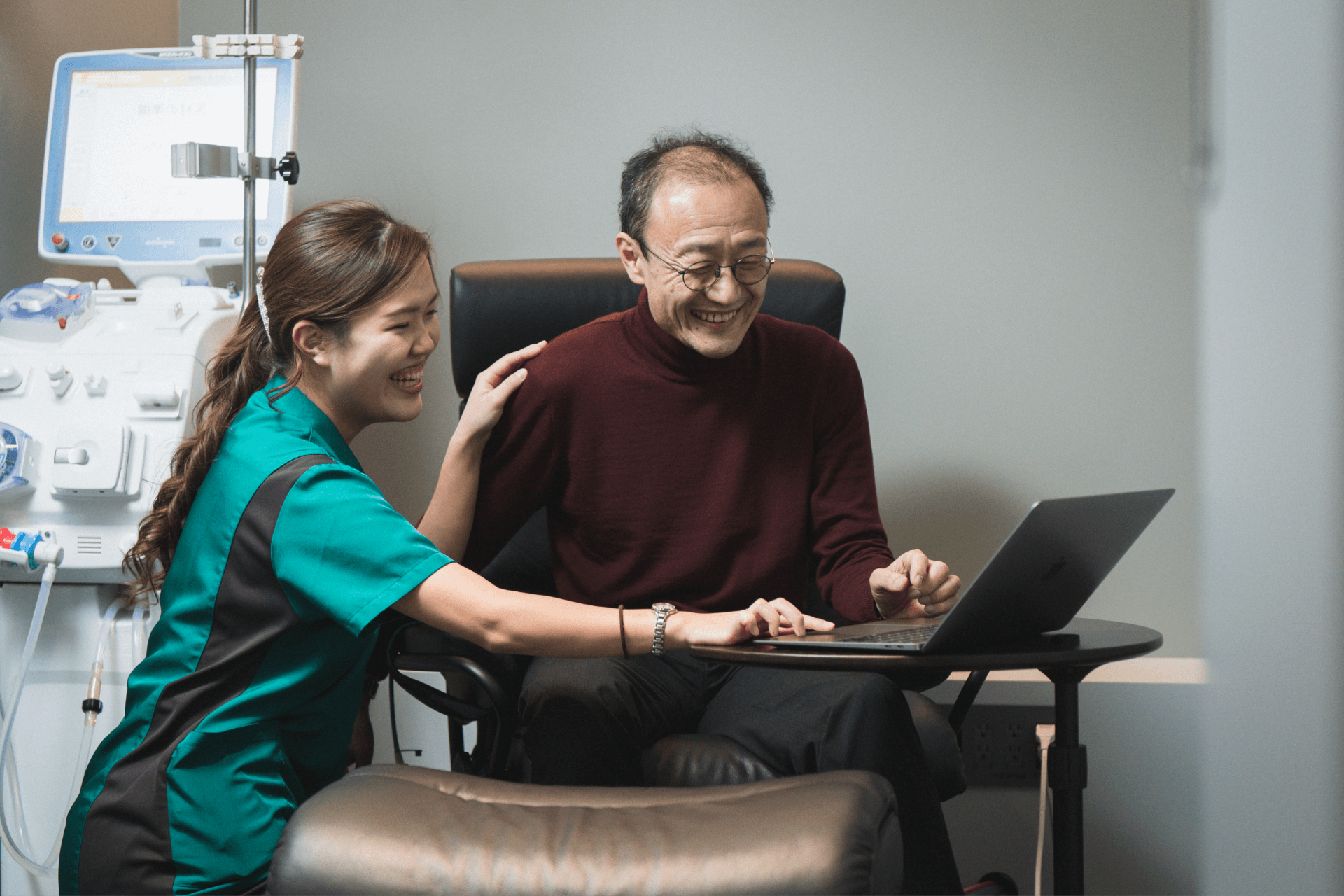 We know firsthand how difficult it is to go to the hospital for "dialysis" and how much pain you are going through.

Having "dialysis" at the center of your life must be inconvenient and uncomfortable for you.
And you are probably disappointed that despite all your hard work, you are not getting significant results.

That's why we help you make "dialysis" a priority in your life.
We will advise you on the time, frequency, and choice of dialysis therapy to "optimize your dialysis".

We support patients to spend more time enjoying their lives by improving their "inconvenience".
Above all, we want to improve the health outcomes of patients undergoing dialysis.
That is the reason why we have created "Patient-Centered Dialysis", after thousands of hours of testing.
3 Steps to Obtaining Your Ideal Lifestyle.
STEP1Book a Consultation

Choosing a dialysis method, time of day, duration and frequency of dialysis.
Our expert nurses will listen to you and clarify your goals and ideal lifestyle.

STEP2Create a Plan

We support you to achieve your goals. We will advise you on the different methods of dialysis (home hemodialysis, self-dialysis, long dialysis, nocturnal dialysis, frequent dialysis, HDF).
We then help you to optimize. We will work with you to create a specific plan.

STEP3Make a Start

It is the start to a vital life. Optimizing your dialysis will make your life more powerful.
Let's take the first step together to enjoy life!
Types of Dialysis Offered by Oasis Medical
Self-dialysis

Home hemodialysis

Nocturnal dialysis

Long dialysis

Frequent dialysis

HDF
Oasis Medical complies with the HDP theory developed by Dr. Scribner in the U.S. The dialysis volume and time are in accordance with the guidelines of the Japanese Society of Dialysis Therapy. *Japanese Society for Dialysis Therapy Guideline
The mainstay of treatment is HDP(Hemo Dialysis Product) management※1, which has been proven to improve health outcomes by increasing dialysis volume.
We provide various dialysis services such as home hemodialysis, self-dialysis※2, nocturnal dialysis, long dialysis, frequent dialysis HDF and hybrid dialysis.
HDP Management※1

Method developed by Dr. Scribner, a graduate of Stanford University, USA. How to improve life prognosis by aiming for dialysis time ✖(dialysis time)2 = HDPscore > 72. Since normal hemodialysis only reaches 50% of the HDP score target ( ≥ 72), the target can be achieved by either increasing the dialysis time or increasing the number of dialysis sessions. This concept is the basis of the theory behind long dialysis and the guidelines of the Japanese Society for Dialysis Therapy.

Self-Dialysis※2

Patients can visit the clinic on any day and time, and can freely decide to increase or decrease the dialysis time or the number of dialysis sessions.
Provide a system for putting the aforementioned HDP management theory into practice at the facility. A system in which patients themselves operate and retrieve equipment under the supervision of a medical professional, as in the case of home hemodialysis.